Here are a bunch of pictures of REAL outboard motors. Most of these are from my own collection but there are some that are owned by other people. If you have a special motor you would like me to post here just email me the picture with a full description.

Jump to: [Evinrude] [Johnson] [Mercury] [Elto] [Stands] [Scott Atwater/Scott/McCulloch] [Viking] [Martin Motors] [Oliver] [Elgin] [Indian Silver Arrow] [Waterman Marine Motor Co.]
[Sears-Roebuck] [The CLARKE TROLLER] [Miscellaneous]

1. 1955 Evinrude Big Twin 25 HP. Restored by George Hall. This motor has sentimental value to me since my Dad had one on his 1952 Lyman 16 foot boat when I was a kid. Close up of cowl.
1955 Evinrude close up of front of cowl. Notice the Aquasonic decal on the side which distinguishes it as a 1955.

2. 1957 Evinrude Lark 35 HP This motor was beautifully restored by Wayne Bearce. The Evinrude Lark was the "Premium" motor for Evinrude, as was the Johnson Javelin. It came with electric start standard and had the fancy cowl included which had a door to hide the pull handle and carburetor knobs. This is a truly beautiful looking motor and highly sought after by collectors.

3. 1957 Evinrude Fisherman 5.5 HP.
Without a doubt, the 1957 outboards by all the manufacturers are my favorites. The 1957 Evinrude is probably my favorite of all with it's script decal on the side and three color cowl. They were also great running motors. This one is not restored, at least not yet! Riddle: Can anyone tell me what's wrong and not original in the third picture?

4. 1954 Evinrude Fleetwin 7.5 HP.
Bought from Ebay this one is in serious need or restoration. The rewind cord is about to break and won't retract. It needs help!

5. 1961 Evinrude Lightwin.
A small but reliable sailboat or rowboat motor. Original condition.

6. 1957 Evinrude Fastwin 18 HP. This beautiful motor was restored by George Hall. This motor has sentimental value to me. When I was a kid my Uncle Pete owned this motor and we would take it to various locations along Long Island to go fishing. We would rent a rowboat and go out flounder, fluke or even Stripe Bass fishing. When he got older he gave me the motor because he knew I always loved it. Pretty neat, eh?





1. 1957 Johnson Sea Horse 18 HP FD-11.
Beautifully restored by Wayne Bearce. These motors have the great Holiday Bronze color with a contrasting white in the cowl. Great looking and a great running motor.

2. 1958 Johnson Sea Horse 10 HP QD-19.
Another beautifully restored motor by Wayne Bearce. This is probably the nicest looking motor ever made by Johnson. The white cowl, Gold lettering and contrasting Holiday Bronze is a real eye catcher. They run great too!

3. 1957 Johnson Javelin 35 HP.
One of the most unique looking outboard motors ever made. The Johnson Javelin complimented the Evinrude Lark as OMC's Premier motors for that year. They featured electric start standard and the unique gold color. A hard to find motor. This one was expertly restored by Wayne Bearce. I did something a little crazy by having the script on the cowl gold plated!




4. Lineup in my garage.
Part of my collection lined up on the wall. Left to right: 1957 Johnson Javelin, 1957 Johnson 18 HP, 1958 Johnson 10 HP and 1957 Evinrude 5.5 HP.

5. Combination pictures.
Picture 1: Contrast of two 1957 Johnsons, the Javelin and 18 HP.
Picture 2: The Javelin, 1957 18 HP and 1958 10 HP.
Pictures 3 & 4: 1957 Johnson 18 and 1958 Johnson 10 HP.




6. Bob McLenaghan's Crestliner Jetstreak with 1957 Johnson 35 HP.
A great restoration job of boat and motor. See the before picture and all the after pictures. Simply beautiful! Great work Bob!





7. 1958 Johnson Super Sea Horse 50 HP: Fondly called the "Port Hole" motor or the "Fat Fifty" these were the first V-90 four cylinder motors made by OMC. These motors are very nice to look at with the cream and gold colors and all the chrome. They're also very heavy to lift. One of the coolest looking motors ever made. The port holes in the rear of the cowl are a cool addition and were functional because you could change spark plugs through them.

8. 1956 Johnson 10 HP: This is a beautifully restored 1956 Johnson 10 hp motor. This motor was restored and owned by Chris Zenner and he did a great job with it! Thanks for the pictures Chris!
1. 1956 Mercury Mark 30H Racing Motor. Beautifully restored by Travis Rems. These are hard to find and highly sought after motors. I had this on a Bezoates "C" Class Picklefork Hydroplane and it was FAST! These motors were made to go fast! Notice the standard Quicksilver racing lower unit and racing prop.




2. 1962 Mercury Merc 1000 the World's First 100 HP outboard motor! This motor was found by my friend Ron. It looks almost new. That front cowl picture is very impressive and looks like the 1962 Mercury catalog picture. The motor was sold to another friend Bob McLenaghan and the indoor pictures are of the motor in it's new home! Bob calls it his "Display Stand Queen!" It now sits next to some beautifully restored motors. From left to right, Merc 35a, Mark 78, Merc 1000, Mark 28, and barely seen is a 1960 Evinrude Lark. Great collection!




3. Mercury KG7 Fishing motor, and KG7-Q and KG7-H Racing motors 1952. This is a famous motor among collectors. The Fishing version is not rare but collectors love them. The first motor shown is the standard fishing motor. Note the swept back chrome piece with the Hurricane tab over it. The second motor is the KG7Q Racing motor. This was used on normal transom height racing boats, but they had problems with turning so most collector's prefer the more popular KG7H, the third set of pictures, which has a shorter leg and was used on the shorter racing hydroplanes. The KG7H is a highly sought after racing motor. These motors are usually missing the lower cowls.

4. Mercury Mark 7. 1954. This is my motor that has been professionally restored by Wayne Bearce. When I found this motor it was a wreak! Someone had taken a paint brush to it and it looked awful and wouldn't start. As you can see the motor now runs great on Wayne's 12 foot aluminum boat! The picture on the boat was after the mechanical restoration but before the cosmetic restoration. Wayne does great work!




5. Mercury KG-4 1952. Not my motor. I can't remember where I got this picture from but it's on my hard drive and too beautiful not to share with everyone. Great restoration work by someone! If it's your motor contact me so I can give you credit for it!

6. 1957 Mercury Mark 75H. This is one of the rarest motors of all time. I think there were less than 100 produced and they are highly sought after. This one was professionally restored by Bob Shapton.

7. 1950 Mercury KE 7 Hurricane 10 HP. A great looking motor owned by Rick Pierce. These are wonderful looking and running motors. The "E" motors are from 1950, the "F" from 1951 and the famous K"G" 7 from 1952.

8. Mercury Mark 20H racing motor. Without question, this is the most highly sought after outboard motor in history. There are motors that are a lot rarer than this one but none that inspire people the way this one does with it's distinctive gold and green paint scheme. Only made for a year or two around 1954, they were the hottest motors on the "B" class racing circuit. Hard to find in this original condition because racers would totally modify them by adding exhaust stacks and corn popper lower units to them. This one is not mine but Bob Shapton is restoring one for me. I can't wait!




9. 1957 Mercury Mark 10. This motor was beautifully restored by Wayne Bearce. I just love the red color contrasted by the white lower unit. You have to love that swept back look of the lower units on these motors and the neat Dyna-Float emblems on each side. Wayne tells me that putting on the white pin stripe decals is a nightmare! I believe it! He did a great job with it!




10. 1989 Bezoates "C" Class Picklefork Hydroplane. This is the Hydroplane that I had the above Mercury Mark 30H motor on. It was built by Shannon Bowman, who is a well known former National Champion Hydroplane driver. This boat was once a National Champion and used to display the coveted "US-1" on it's sides. With the Mark 30H this boat was very fast. Shannon still builds these boats in New Jersey. Notice the racing dead man throttle. You need to kneel inside and the pounding really takes it's toll on your knees. I sold this boat to Travis in 2004 because my knees can't take the pounding anymore!




11. 1955 Mercury Mark 55 40 HP: This motor has been beautifully restored by John De Montigny in Wisconsin. I've always liked this year motor because of the wonderful "airplane" decal on the sides. It's also the real motor that the first K&O Mercury motor was replicated from. The faceplate is also a very nice design.

12. Mercury Merc 1250 Stacker: This is an awesome Merc 1250 Stacker owned by Gary MacNorius. A famous story happened in March 2005, at the Mt. Dora antique boat show where Gary brought his MTZ boat with this Stacker. Early one morning he started it up to take a ride on the lake and the police were called because it was too loud! Someone I know heard it from many blocks away! What an awesome combination! Gary completely restored the MTZ himself.



13. 1956 Mercury Mark 55 40 HP with long shaft extension on the lower unit: Nice original condition 1956 Mercury Mark 55 with the long shaft extension added to it. Notice on the front plate the four chevrons, this means that it's the Mark 55 motor. If it had only three chevrons that's the Mark 30 motor.

14. 1979 Mercury Merc 1500XS: This is really a cool looking motor. It's the 1979 Merc 1500 XS short shaft motor. Rated at 155 HP it's made for speed. You just have to love the louvered cowl and the bright red decals against the deep black paint job. This motor has been completely restored both mechanically and cosmetically. David Doyle did the cosmetic restoration including adding the decals. The custom made decals were $300! The clever style prop cost $450 alone!
This boat is going on David's brother's 1962 Switzer Craft Shooting Star. What an awesome combination! That boat is going to fly! I'll post pictures of the combination in the real boats section.

15. Great Mercury Outboard Collection: This is an awesome collection of mostly Mercury outboards. The collection is owned by Ronald and Marc Lietha and yes, it's in their living room! I count 3 Mark 20H, a KG9 and at least 9 KG-7 (some KG-7H) Mercury outboards! UNREAL! I'm jealous!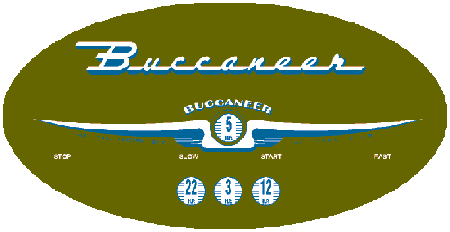 The Gale and Buccaneer motors were actually made by OMC who made the Evinrude and Johnson motors. The Gale and Buccaneer were the 'economy' version of their motors and sold for less money. They were usually a few horsepower less then the Johnson and Evinrude versions. Most of the parts, however, for all the OMC motors were interchangeable.
1958 Buccaneer 25 HP: This is the real motor version of the K&O toy outboard motor version. Until recently, I thought that this styled Buccaneer was only made as a 25 HP but see the motor below that's a 35 HP motor. Thank you to Wayne Bearce for the pictures of his motor.
1959 Buccaneer 35 HP: This looks like the exact same motor as the 25 Hp but notice that it's a 35 HP. I believe this was made in 1959 as the maybe the manual start version and the all white motor, the 35 HP Gale Sovereign, was the deluxe electric start version. Does anyone know for sure?

Elto was owned by Ole Evinrude. He sold Evinrude in the 1913 when
his wife Bess, who was the marketing genius for Evinrude, got sick. When
her health returned in 1919 Ole showed his genius again by making an outboard motor out of aluminum which was much lighter than the iron and bronze motors of the day. Evinrude's new company was called Elto, for Evinrude Light Twin Outboards.
1. 1939 Elto Pal 1.1 HP.
These are not rare but are highly sought after by collectors. This one was beautifully restored by Wayne Bearce. Now, before you go emailing me that the gas tank color is wrong, we know it. The dull aluminum color just was too boring, so Wayne came up with this great red color. OK, so it's not original! I don't care.



Stands to Hold Motors
1. Tim Hanowski's REAL outboard motor stands. TTSKI@Juno.com
There is nothing like having a great outboard motor stand to display your motor and these are the best I've found. They fold flat, have 4 wheels not two or none like other stands, to make it easy to move your motor around, and the best feature is they take up very little room when open. Look at how close you can get your motors without damaging them! Tim makes stands for small motors, mid size, and the heaviest motors. The first three pictures are of my motors with a mid size stand. The next two are of his small stand for small motors up to about 18 HP. The next two are of his Large Motor stand which will handle almost any old motor, no matter how heavy it is. Check out the Evinrude Lark with the white stand next to it and a folded black one in front of it. Neat! Then the next set of pictures are really cool! This device that Tim sells combines with the wood you supply to make any size stand from one motor to multiple motors! Look at how many motors you can fit on a single stand! This is very unique and really comes in handy. Contact Tim for prices and information at: TTSKI@Juno.com









1. Scott Outboard's Flying Scott. I'm not sure of the year of this motor but it's right around 1960. Scott used to be called Scott-Atwater but the name was shortened in 1959. These motors were only three cylinders but very fast.

2. McCulloch 75 HP: McCulloch is the company that bought out Scott-Atwater in the early 1960s and continued to make outboard motors, many very fast motors, until the late 1960s and then faded away. Amazing horsepower in those years for only 3 cylinders. You can see the strong cowl resemblance to the Scott outboard above. The motor came in several different colors. Notice the great plastic TOY McCulloch outboard motor! Looks pretty good!




3. 1957 Firestone 38 HP: Not many people know that Scott-Atwater also made motors for other companies including the famous tire maker, Firestone. This is the top of the line Firestone 38 HP motor which is the same motor as the Scott-Atwater 40 HP. Notice the cool wings on the cowl!




4. 1957 Firestone 10 HP: Neat looking motor with the same cool wings on the cowl like the 38 HP above! Again, made by Scott-Atwater. The lower unit colors are really neat looking in person.

5. 1957 Firestone 16 HP: Neat looking round head motor that looks a lot like the 1956 Scott-Atwater line of motors.

1957 Firestone 5 HP: Cute little 5 HP motor also made by Scott-Atwater for the tire company. This is a super cool motor because of the "Knot-O-Meter" on the front to tell you the speed you're traveling! Neat!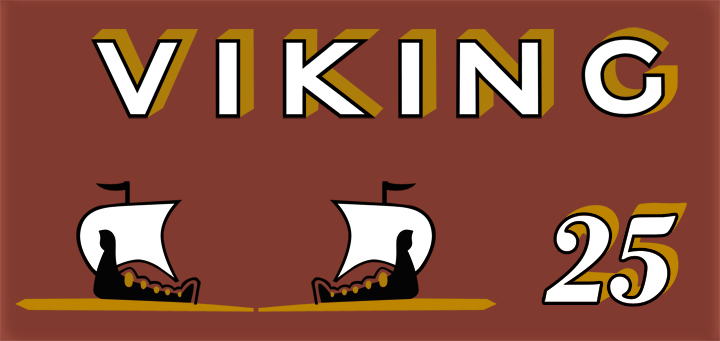 The Viking brand of motors were made by OMC, the same company that made Evinrude and Johnson, and was the same as the Buccaneer brand of OMC motors. Usually had the Viking ship as part of the decal and came in neat colors not offered by other companies.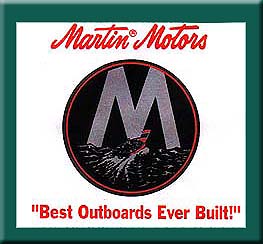 The Martin brand of outboard motors have a very faithful following of collectors who love them. They have a great reputation as good running motors. The decal usually had the Fisherman logo on it.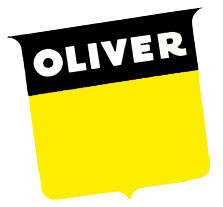 The Oliver brand of outboard motors were made by the famous Oliver tractor company. The toy version of the 1958 Olympus 35 HP is one of the highly sought after motors by collectors.

The Elgin motor was produced for Sears and was extremely popular. Millions were made and sold. Not popular amongst most collectors but still considered a good running motor.

The Indian Silver Arrow outboard motor was made by the famous Indian Motocycle Company of Springfield , Massachusetts (The 'r' in 'motorcycle' was intentionally left off by the company). It's one of the most sought after motors in the outboard collecting world because they were only made in 1930. The beautiful exhaust casting truly distinguishes this motor from any other. Indian purchased the Hartford Sturdy Twin design and machining in late 1929 from Gray & Prior Machine Company of Hartford , Connecticut . Indian did not begin selling their new Silver Arrow until early 1930. They spent the latter part of 1929 designing their fancy muffler which probably did more to damage a good running outboard instead of improving it. The Indian outboard was not manufactured after August 1930 when, then company president, E. Paul Dupont (of the paint company fame), made the decision to return to building motorcycles instead of other non-profitable items. This was a wise decision since Indian Motorcycles survived the Great Depression and were produced until the mid-1950s.
Indian manufactured approximately 1,500 Silver Arrow outboard motors. Approximately the first 600 motors were manufactured with cast-aluminum gas tanks and were considered 1930 models. The last 900 were manufactured with two-piece pressed aluminum gas tanks of a slightly larger size and were considered 1931 models (even though they were manufactured in 1930). The cast-aluminum gas tanks did not use decals. Instead, an aluminum painted "Indian" nameplate was pinned to the back of the tank. The price for one of these motors was originally $185 but they apparently didn't sell well as new motors were still being sold as late as 1933. This is probably because they were sold from motorcycle shops and not all shops are near the water. Indian also didn't publish any owner's manual or a part's list for the motor.
I want to thank Tom Oncken, the AOMCI Indian Silver Arrow Special Interest Group leader for all the wonderful information on this unique and interesting motor! Thanks Tom!
Waterman Marine Motor Company
Ole Evinrude has always been called the Father of the Outboard motor, and rightfully so since his mass production of the Evinrude Row Boat Motor truly put the outboard motor on the map. But, the Evinrude motor wasn't the first outboard ever made and, as it turns out, not the first commercially produced outboard motor. This title goes to Cameron B. Waterman and the Waterman "Porto" outboard motor who started commercial production in 1905.
Sears-Roebuck

The Sears-Roebuck Waterwitch was made from 1936 to 1945 and was a private brand motor but built for Sears by some of the famous outboard motor companies, including Johnson outboard motors who made the Model 550.75 Waterwitches from 1938 to 1940. Famous for their two popular models, one dubbed the "torpedo" style and the other the "Mae West" models for obvious reasons!
The CLARKE TROLLER
The Clarke Troller may be the most unusual outboard motor ever made. It was developed by D.R. Clarke and his Clarke Engineering Company in Detroit, Michigan because Clarke was unhappy with the cantankerous outboard motors of the day. What made it so unique was that the 1.2 HP motor was completely underwater in the lower unit! This made it easier to cool and made the need for gears obsolete because the prop shaft acted as the crankshaft! You started the motor by putting a rope around a sheave on the propeller then lowered it into the water once started. The top of the motor held the coil, gas tank, and carburetor controls. These were battery ignition not magneto. The Clarke Troller was only made from 1937 to 1941 and sold for $35. It was 21 inches high and 10 lbs. and fit into it's own canvas carry bag! Very rare and highly sought after by collectors.
Miscellaneous motors